7 Proven Tactics to Improve Your Facebook Fan Page Engagement
Posted December 5, 2012
What is the value of Facebook fan? - Nothing, unless you engage meaningfully.
- Tara Hunt, Buyosphere

I've just finished this awesome presentation on BusinessInsider including great insights, examples and the tale of two sides - the right and the wrong way of doing social media.

Everyone's on the ship, but not anyone can be praised for the effort. The fact is, people don't want to hear about products and they usually don't want to see advertisements while surfing the web and catching up with friends on social networks. We rarely visit Facebook with the single thought to engage with brands.

In order to engage in meaningful discussions and get ROI, brands must have well-crafted strategy in mind. Companies should be prepared to provide value and they need to design positive and fun experience via the social web that encompasses the overall story.

I suggest this simple Facebook marketing checklist right before engaging on social media:
✓ Facebook marketing goals established. These goals must be aligned with the main marketing and business objectives,

✓ Content marketing plan developed. Your content managers are responsible to prepare a content that will attract your Facebook fans' attention, earn their trust and consistently provide value.
✓ Engagement strategy. A dedicated community manager need to guide your online community and convey the message for the brand.
✓ Promotion strategy. Although the power of conversation and the real value coming from remarkable content are the best marketing, you should engage fans via contests, sweepstakes, quizzes and original/creative ideas.


How to improve you Facebook fan page interaction?
Here are few tips for marketers on how to make sure to bring their Facebook business page on a new level:
1. Ask questions to encourage conversations with fans. Comments from fans worth 4x times more in the Facebook EdgeRank algorithm than likes. (SocialFresh)
2. Use attractive photos. A picture is worth a thousand words and maybe more than thousand likes.
3. Post at best time for your fans. Discover and post updates on times when your target audience is most active online. Be careful not to scare away fans and do not "spam" users with more then two posts a day.
4. Run a creative Facebook contest. These are certainly one of the best ways to engage fans and increase that "Talking about" metric on your Facebook page.
5. Use fun and entertaining content. Make your fan page to stand out by posting interesting and likeable content related with the brand story.
6. Include call-to-action. Provide direction and guide your fans.
7. Use promoted posts and sponsored stories to increase Facebook reach. If you got important announcement to make or need to spread specific message among fans, consider this option.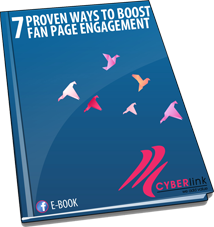 Download here

If you want to see these tactics elaborated and more in-depth, you can download our eBook "7 proven tactics to boost your Facebook fan page engagement".

What would you add to the list? What are your best practices when it comes to engaging your audience on Facebook?



Authored by:
Aleksandar is Internet marketing specialist at CyberLink Media - digital marketing agency focused on social media and SEO services.
Passionate social media blogger, huge basketball lover, Manchester United FC fan.