Stop Running Giveaways on Social Media! Run Them on Your Website
Posted February 1, 2013
Keywords
:
Facebook
,
Social Media Marketing
,
Branding
,
Advertising
,
Pinterest
,
Twitter
,
Marketing
,
Opinion
,
Public Relations
,
Social Media
,
Tools & Apps
Social Illusion
Facebook, Twitter, Pinterest, and every other social media website have cultivated a craze around inflating follower numbers in the social media marketing landscape. Companies have become focused on, even obsessed with, growing their social media footprint with giveaways.

Growing your social pages is about quality though, not quantity. I have come across so many companies that are obsessed with reaching X amount of 'likes' on Facebook as their goal, and they will seemingly stop at nothing to reach that goal.

Why, though?

What good is it to have 5,000 people that like your page if most of them don't care at all about your business and don't actively share or engage in your posts?

I recently encountered a company whose page had over 100,000 likes, but their posts were only getting 4-5 likes and 1-2 comments each. It was easy to tell that they had focused on quantity over quality – perhaps even buying likes to inflate their numbers. I scrolled as far back as a year and they still only had a few interactions on every post. 100,000 likes means absolutely nothing to their business when only a few people are interacting with their page.

So, why? Why invest time, money, and resources just to have an artificially inflated number that stands out on your page? The sad truth is that some businesses feel an inflated number makes them appear larger than they really are. It's an illusion, and it's bad business because chasing vanity metrics is a lower-leverage activity than pursuing qualified leads. More importantly, social media should be used as a tool to bring customers to your own website, where you have full control.
You don't own social
Focusing on growing your business, website, traffic, customer base, and anything else that you can directly manage and control should be the number one goal for your company.
Remember, you own your website; you don't own your social media pages.
Let me repeat that: you don't own social.

Let that sink in a bit.

Just because you have built an audience on Facebook or Twitter, and maybe your logo and business information are on the page, does not mean that you own it. Since Facebook is the biggest player when it comes to businesses, let's focus on them.

Tara Hunt (@missrogue) definitely gets it:
"It's okay to drive people to your site instead of Facebook's" - @missrogue bit.ly/RZFCZ7 Share your social media rules w/ #TheRules!

— Fast Company (@FastCompany) August 8, 2012
Here are some stories of businesses that have had their Facebook page removed:
And of course, here are the Facebook Pages Terms. If you look all the way at the bottom, the most important part is:
"We reserve the right to reject or remove Pages for any reason. These terms are subject to change at any time."
Now you may think that this could never happen to you, but it could. Every single day I see businesses running a giveaway on Facebook that either asks for users to enter by leaving a comment, sharing a post, or liking a post, which is in direct violation of Facebook's promotion guidelines.
By setting up a page on a social media website you are agreeing to their terms, and if they feel you have violated them in anyway, your page can be removed. All of that hard work, focus, and money spent to grow your social media pages and it can be taken away from you in an instant.
I'm not saying social is bad – just that it's a tool. It should be used and treated as a tool to help grow your business, but it should not become the hub for all things related to your business.
Think about this right now: if your Facebook or Twitter page or any other social page you have was stripped from you, how badly would your business suffer?
Would you see a huge drop in leads or sales?
Or would your business remain unchanged, maybe just a small drop in traffic?
If you've used social as a tool, and you've used it correctly, losing your social media pages should not spell disaster for your business.
You own your website
Being in full control of your business's destiny will be a major factor between success and failure. You can still succeed if you build a business on top of another infrastructure which you do not own, but there is always the chance something could go wrong, outside of your control.

When it comes to running a sweepstakes or contest for your business, you should always have a set of predetermined goals that you are trying to achieve. Whether it's to increase your website traffic, sales, email subscribers, or your even your social profiles, you need to have some type of manageable, measurable goals.

These goals are most easily measured from within your own website, where everything is under your control.
Bring the herd to you
Facebook contests and sweepstakes created on companies' pages have increased dramatically over the past few years and there are a handful of businesses that have created apps that let you run a promotion on Facebook.

While running a contest or sweepstakes for your audience on Facebook is a smart marketing move, it does not need to be hosted on Facebook.

You're ultimately trying to grow your business in one way or another with giveaways, but you are only hurting your business by hosting them on Facebook.

Here's why:
You are hosting a giveaway on a website you don't own, for a website you do own.
You must follow the strict promotion guidelines of Facebook. Remember, they reserve the right to remove your page at any time, for any reason, without warning.
You are collecting people's information on Facebook, to grow your business. Three months from now when you send out a marketing email to those people directing them to your website, do you think they will remember your business if they never saw your website in the first place? You'll most likely have a HUGE unsubscribe rate and several spam complaints.
If you use 'like-gating' (forcing people to like your page before they can enter a promotion) you are just reinforcing the social illusion as discussed above. While you may still be able to convert a few of those likes into customers, you need to remember that it's about quality, not quantity. Don't force people to like something. If they like it, they will do it on their own.
Here is a great example of a business that is doing it right. GoPro has a created a Facebook tab for their giveaway, however, the contents of that tab link you directly to their website where the giveaway is hosted.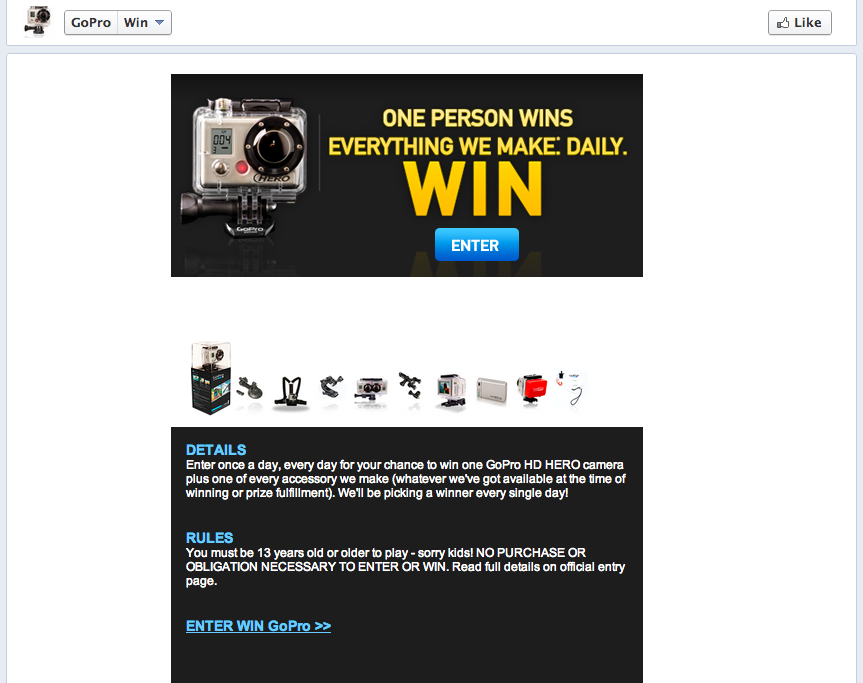 They are not collecting your information on Facebook. They direct you to their website so you can enter the giveaway and then browse their products and watch their videos. They don't use 'like-gating' to force you to like their page before you can view their giveaway. This is textbook utilization of social media to bring the herd to you. Well done, GoPro!


Social is a tool, treat it like one
So why should you avoid hosting giveaways through Facebook, Twitter, Pinterest, Google+, or any other social network?

It's simple: you don't own Facebook; you don't own Twitter; nor do you own any other social media outlet. Odds are you don't directly sell your products or services on these social media sites, and your customers aren't buying from you directly on social media websites.

What you do own is your own website. You sell your products or services on your own website, and your customers buy from you on your own website.

Catching on here?

Your website should be the main focus when running a giveaway, and you should be utilizing social media to bring people to your website, NOT the other way around.

There is a huge difference between leveraging social in your marketing strategy versus social BEING your marketing strategy.

Whether you use one of the many platforms available to run a giveaway or you create your own custom solution, make sure that social is somehow baked into the product.

Remember, Facebook, Twitter, Pinterest and many other social media websites have their own social buttons that you can embed on your giveaway page. Embedding these buttons allows you to provide users with the functionality to tweet, like, share, and pin without ever having to the leave the page.

Let me repeat that: the user can perform all of the social actions that you desire, without ever having to leave your website.

Facebook Social Buttons

Twitter Social Buttons

Pinterest Social Buttons

Google+ Social Buttons
Utilize all of these social tools in your marketing strategy, and in your giveaways, in order to build your user base right on your website. It's so simple, yet most businesses don't do it.

Don't let social become your business's new homepage.
Recap
Don't get sucked into the social illusion. Focus on building a quality customer base. More likes doesn't mean more business.
You don't own social. You own your business. Your social pages can be stripped from you at anytime, without warning.
Your website should be the main focus when running a giveaway, and you should be utilizing social media to bring people to your website, NOT the other way around.
Leverage social in your marketing strategy. Don't let social media be your marketing strategy.
Authored by:
Giancarlo Massaro is the co-founder of ViralSweep, a platform for building, running and managing giveaways on your own website. Over the past 5 years Giancarlo has worked with and consulted for thousands of brands, helping them to run effective online sweepstakes.